Hazelnuts in a whole new way, delivered to your door
Reimagine hazelnuts with our flavorful, tempting nuts that are fresh from the farm, not from a can. Plus, you'll find nut flours, oils, and more to take your recipes to the next level.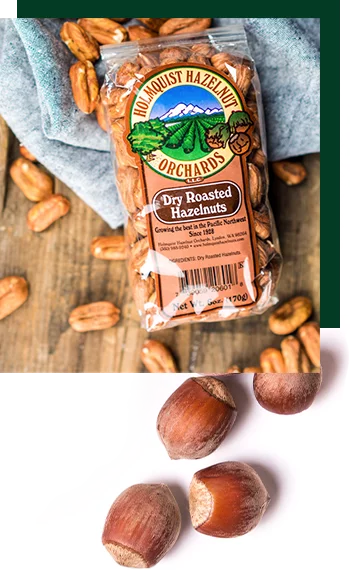 $

12.99

Perfect for snacking or baking, these dry-roasted, unsalted hazelnuts have a sweet-flavor and tons of health benefits to boot.  Hazelnuts are an ideal, heart-healthy snack because of their high fiber content and the presence of naturally occurring […]

Add to cart
Rooted in Family Tradition
After 5 generations, we know a thing or two about hazelnut farming. Our family-owned and operated farm produces fresh, quality hazelnuts that commercial farms can't compete with. We know the tricks of the trade and can turn even the hazelnut naysayers around with our unrivaled flavor and aroma.

From a healthy snack to the perfect alternative for gluten-free baking
Looking for a gluten-free flour that adds flavor and nutritional value to your recipes? Liven it up a bit with our hazelnut flour.
People go nuts for Holmquist™
"Wow! Terrific Product….
We used them sparingly but the bag was finally empty and we've come to the conclusion that we cannot live without them!"
"I purchased these bags while in Seattle last April. I haven't been able to find hazelnuts anywhere in Kansas that come close to your product."
"It is almost impossible to find hazel nuts in the store. I ordered these and they were fresh, great flavor and reasonable price...I have even reordered them a second time."
Subscribe to our newsletter to get offers and updates.